Hammer & Sickle
The look and gameplay quality are comparable to that of Eidos' Commandos series, but with RPG elements.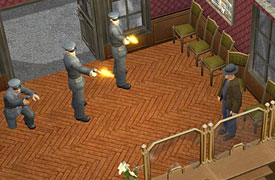 It's time to brush up on your English comrade because the Red Army has just selected you for a special assignment courtesy of CDV Software Entertainment and Nival Interactive's Cold War spy thriller Hammer & Sickle. The story takes place at the beginning of the Cold War when the Allied forces and the Soviet Union were on the verge of full-blown conflict with each other.


To keep tensions from reaching their boiling point you, a Captain in the Soviet military intelligence division, must cross into the American occupation zone in West Germany and discover unknown enemies who seek to destroy both governments and turn the Cold War into permanent nuclear winter.


For those who enjoy RPG's and tactical games H&S should be a natural fit. The look and gameplay quality are comparable to that of Eidos Entertainment's Commandos series but with RPG elements like a turn based combat mode and a skill tree that grows with level experience. The turn based combat is nice because it allows players a chance to plan out how best to assault a well-placed enemy but can be painfully slow at times because of a rather indecisive A.I. system.


One of the best aspects of this game is the story, which is fresh in many respects because the hero is a Soviet not an Ally, allowing gamers a new perspective of the conflict. On top of that the story itself is not completely fixed but very much determined by the players overall performance and actions and since your presence is supposed to be covert resorting to too much unsanctioned violence will make it impossible to stop war from breaking out (so only shoot the really really annoying civilians you meet).


What disappointed me was that a game with such a great story displayed some rather under whelming graphics and tons of load screens, which ultimately end up hurting the material instead of supporting it. I think it's a good game that could have been an awesome game but because of those reasons fell shy of the mark.


I enjoyed playing this game and think a lot of other war game enthusiasts will too. It might even catch the eye of a few strategy game players at the same time. Overall this game deserves a look, weak graphics or not. Good luck comrade and do svi danya!

Review by Bret Callinan.